This printable contains everything you need to create an adorable "Smart Cookie" bulletin board. Originally intended to support lessons about prefixes and suffixes, this printable is open ended and can be used across multiple disciplines.
Contents:
1. List of words with prefixes and suffixes to get you started.
2. List of suggested picture books that support lessons about prefixes and suffixes.
3. Mini banner (8x11) "We Filled our Jars with Smart Cookies"
4. Jar template with 5 blank cookies in it (time saver).
5. Empty jar template (fills 8x11 sheet of paper)
6. Cookie template- brown center (10 cookies per page).
7. Cookie template white center (ink saver)
8. Adorably illustrated cookie jar with pre-printed activity description to enhance your bulletin board.
9. Adorably illustrated blank template so that you can create your own activity description.
10. A list of more "smart cookie" activities including "celebrating the 100th day of school with 100 smart cookies", "smart cookie math facts", "smart cookie wh sentences" and more.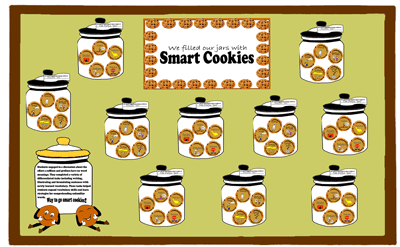 Smart Cookies Bulletin Board